It has been about a year since
Xara released Designer Pro X11.
And we have all had to count the
days before we could discover
what cool new features await us in the new
release. But all that waiting has changed
from a long wait, into instant gratification.
Because as the new number suggests, and if
you have followed the releases of Xara Web
Designer 365 and Photo & Graphic Designer
365, the 365 means that new features and
content will be added throughout the year
along with updates and product revisions.
You will get all this without having to wait
until next year at this time.
Here's a quick explanation of how the 365
Update Service works. When you purchase
Designer Pro X 365 (or any of the other 365
products), you get new content, features
and updates for one year. If you renew your
purchase at the end of the 365 days, you
continue to have access to all the content,
new features, and updates. If you decide to
wait a while, after the 365 days are up, the
product is still available but the Content
Catalog, any new updates, and new features
will no longer be available.
There are a bunch of new Reveal
Animations including Zoom/Fade-in Up
(shown here). Objects and Nav Bars can
now be set to Stick to Top. In addition a
new category of scrolling animation has
been added: Scroll which includes Parallax.
I'll explain the difference between Reveal
and Scroll on the Website Design page. Also
included: 365 days of M Web hosting, and
access to the updated and enhanced Xara
Online Designer (Beta).
Click here for complete information.
All kinds of new goodies in the Photo
Editing department. My favorite is the new
Magnetic Lasso which makes it literally a
snap to cut the rose out of the photo on the
left and to make clone copies.
The brand new Smart Photo Straighten/
Scale feature is a treat. There are new
transparency blend modes, plus the Effects
Painter, and a set of new Photo Filter
Presets to let you quickly apply different
moods to your photos.
Click here for complete information.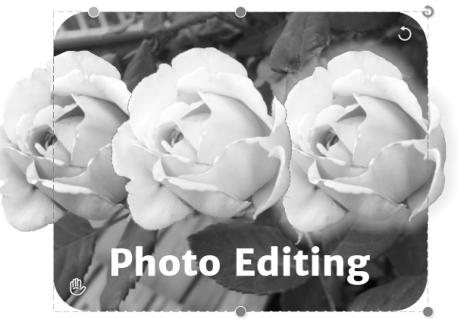 SmartShapes
are now even smarter with
improved editing and more control! There
are new intuitive ChartShapes that are more
than smart, they're brilliant!
There are new Text Panel designs and New
Simple Smart Shapes such as the spiral
shown here.
You are going to love the fully adjustable
Packed Photo Grids! And there's a new
SmartShape API for JavaScript developers to
create your own SmartShapes.
Click here for complete information.
Many small additions to the Text Tool.
There is a new Advanced Text Bar that frees
up screen space. Rectangular Repelling,
automatic Open Type font kerning, simple
Case changing (all caps, all lower case, or
Sentence case), Spell Check an entire
document with a different language, and
options to keep lines together and with the
next paragraph.
There are loads of new symbols, and the
Symbol library has a handy new search
function. And now you can replace an
existing symbol or text list bullet with any
symbol.
Click here for complete information.
The Online Content Catalog
has been
redesigned and now features a Search box
to make finding the right content faster.
There is a valuable new Pixabay Stock Photo
and Image library that contains high quality
photos and vector graphics of everything
from Alligator to Zebra. And some cute little
3D figures. The Designs Gallery has been
renamed the Local Designs Gallery and
contains content you have downloaded. In
addition you can download entire categories
so you access the content even if you work
off-line.
Click here for complete information.
Visit the individual pages for more in depth
information and feature lists. Or if I have
already convinced you, Click here to go
directly to the download page to try or buy
new Xara Designer Pro X 365.
Xara Designer Pro X-365 —

First Look