Xara Designer Pro X-365 —

First Look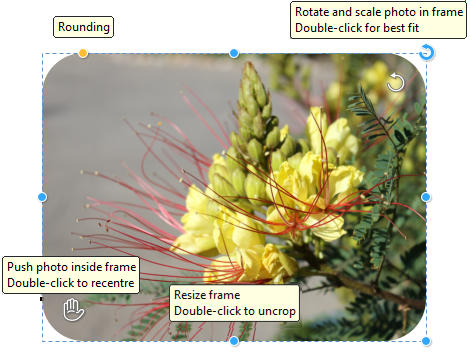 Smart Photo Straighten/Scale
Xara has
added some of the new SmartShapes
controls to your photos resulting in a more
streamlined and intuitive way to edit the
size and shape of your photos. You can see
the new controls in the photo above. These
controls let you scale, crop, rotate, resize,
and move your photos around inside of the
photo shape. You can even round the
corners. There are tool tips that appear over
each control point that explain that point's
functions. The only bit of confusion for me
is the dual rotation arrows top right. The
blue rotation handle rotates the physical
photo itself while the inside white arrow
rotates and resizes the photo inside the
photo shape. It is a welcome and elegant
way to manage your photos.

The Effect Painter
This new feature lets
you edit portions of your image with a
variety of available effects. As with the
Shape Painter and similar tools, you select
an effect, a brush size, determine the angle,
and softness of the brush, and then paint
over a portion of a photo to apply the
effect. In the example below, I used
Saturation Soft to brighten the yellow
flowers and red stamens. The best way to
see what changes these different effects
bring about it to try them out. They are
"non destructive" and are applied over the
photo and can be selected and removed at
any time, unless you select the option to
Flatten Photo Group (Arrange menu), at
which point the effects become
permanently added to the photo.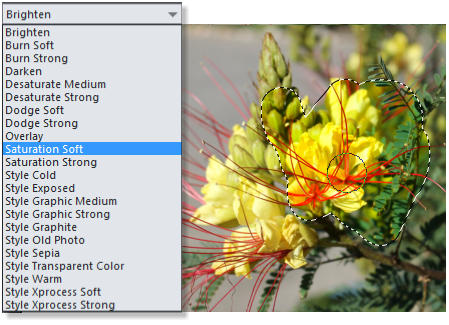 The Magnetic Lasso Tool
is worth the cost
of the program in my opinion. It works best
when there is a clear distinction between
areas as with the rose shown here. But it
could not be easier. Select the photo and
click along the edges, and the Magnetic
Lasso snaps to the edges of the photo until
you reach the starting point. You click more
or fewer points depending on the
complexity of the shape.
When you have completed the outline, you
can cut, copy, and paste the selection. It
could not be easier!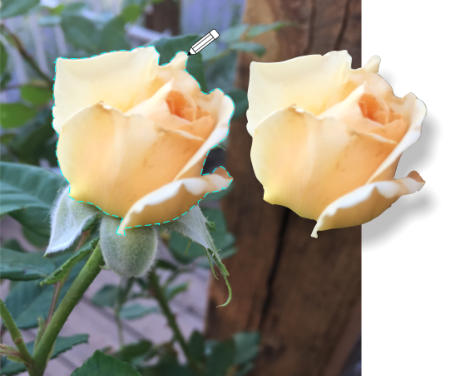 PanoramaStudio 3.0
Designer Pro X 365
has a really easy to use Create Panorama
tool (In the Photo Tool fly-out menu) that
seamlessly stitches together a series of up
to eight overlapping images into a
panorama such as my photo above. And for
several versions, owners of Designer Pro X
have had the opportunity to download and
install PanoramaStudio, a heavy duty
professional utility for creating wide angle
photos and even 360 degree panorama
images and which is free to Designer Pro X
owners.
New PanoramaStudio 3.0
is included with
Designer Pro X 365 (Help > Download
Content Installer & Pan Studio). It features
a range of professional features including
the completely redesigned HTML5
panorama viewer for in browser, interactive
panoramas. Click on the image above to see
an example. Images can be imported
directly from over 2,200 digital compact
and SLR cameras. And the RAW image
import filter has been updated.
[Click image to see the HTML5 Panorama Player]
Photo Filter Presets
A collection of 26
effects that you can apply to your photos to
achieve a variety of looks. I have selected 12
of these new effects to show here top right.
The Photo Filter Presets are found in the
Content Catalog > Components > Image
Resources. You select your photo then
select a Filter Preset and press Import. The
filter effect is downloaded and applied to
the photo. Once you have imported the
effect it is added to the Local Designs
Gallery.
New Transparency Blend
Modes
There are two new
transparency blend modes in
the Transparency (Blend)
Mode drop down list, Color
Dodge and Color Burn. These
take their names from the traditional
darkroom techniques applied when making
black and white prints of dodging, making
an area lighter, and burning, making an
area darker. The blend modes that were
carried over in version 11, Brightness, Make
Lighter, and Make Darker are now gone. But
using dodge and burn produces a similar
effect but with less loss of saturation.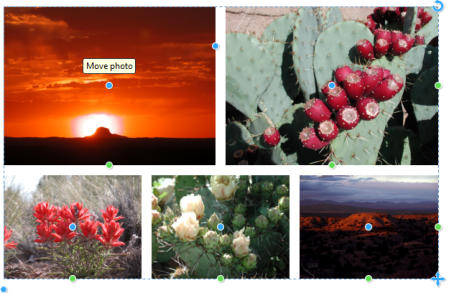 Photo Grids
Xara Designer Pro X 365 now
offers two types of photo grids (Content
Catalog > Components > Image Resources)
Smart and Static. Smart Photo Grids such as
the example above make it easy to add,
delete, scale, and move photos. You can add
additional photos and photo rows. In short,
a very intuitive way to put together a
montage of photos. The other type of photo
grid is static. These are arranged in
different sizes, aspect ratios and
configuration. With both smart and static,
you just drag and drop your photos onto the
existing ones. You will love these.

Saturation Soft makes the colors brighter